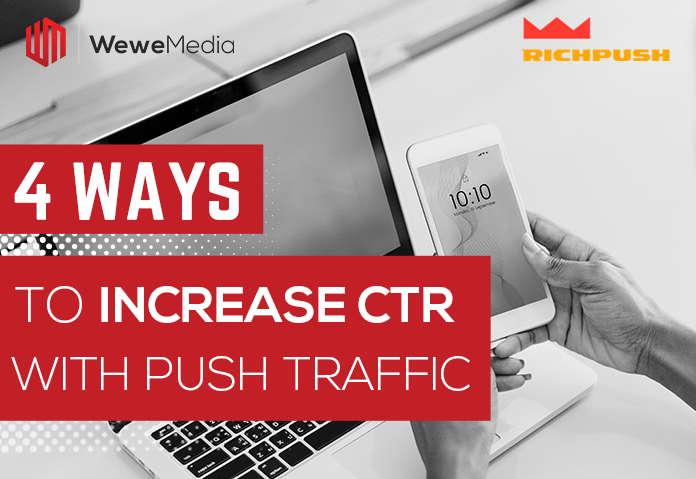 Push notifications has been thriving , but figuring out the key to obtain a higher CTR is a struggle even for top affiliate marketers. This gets even harder as the market becomes intensely saturated with push notifications targeting potential customers. But there's always a way out: devoting more time to creatives to make them unique. The experts from RichPush are here to give you some top recommendations that you can try out to improve that hard earned CTR! 
1. Take Advantage of Key Events
One of the easiest way to increase CTR and get more conversions is to hold your offer back to back with an important event. Campaigns that have been launched in sync with important sports events, holidays and world sales typically show good results. While half of the world was waiting for the "Game of Thrones" denouement, affiliates were already making money on their campaigns with the results of the show's finale. 
2. Use Macros with Geolocation in Messages 
As compared with social network's traffic where a wide range of targeting parameters are available, push traffic is less segmented. What about the idea of including location specific highlights of the targeted city in your message? This tip will no doubt increase the personalisation of your message and be more widely accepted by your key audience. 
Such trick works especially well with the dating vertical and you can achieve good results with almost any offer in certain cities. 
RichPush 's interface helps greatly with this by allowing macros to be set up for specific geolocations – simply add two square brackets + CITY=[CITY] and you're good to go. The user will finally see his or her city name on the push ad. 
3. Show Urgency
If you want to increase the users' engagement, make them act right now! 
The algorithm of call-to-action landing pages is clear, but how can we use the same approach in the text of push notification? Make full use of motivating action words in the headlines. High energy verbs such as : Come on, Cut down, Double, Explore, Find out, Hurry up, Join, Make, Open, Register, Remain, Save, Say goodbye, Snap out, «Stop!», Take part in etc are great headline starters to attract attention. 
4. Target New Audience 
Everybody knows that over time the audience gets tired from push notifications. Especially if they are taken from spy-tools and all the creatives look the same. 
However, you can solve this by simply showing your offer to people who have subscribed to push notifications recently and not yet heavily bombarded with different offers. 
Not all push traffic providers divide their audience according to this principle. But in RichPush you can actually target your campaign at people who have subscribed to push notifications no more than 7 days ago. Such an audience is more expensive but certainly shows much better results. It's always a case of quality over quantity right? 
The "New Subscribers Only" function will do wonders to help you to improve your CTR. While you can turn this on in campaigns that have already been launched before, we would recommend creating a separate campaign for such audiences to make sure we don't mix the results from new and old users.  
These are some key tactics to take note of when running your push ads to increase your CTR. Thinking out of the box and adopting a more creative approach can go the extra mile to get you great results. Of course, making full use of your push platform features like those on RichPush can give your campaign ads a bigger competitive advantage over the rest!
Keen to find out what type of creatives work best with push traffic? Tune in to our podcast with Yan Gorbach discussing push ad creatives that convert for some great insights!