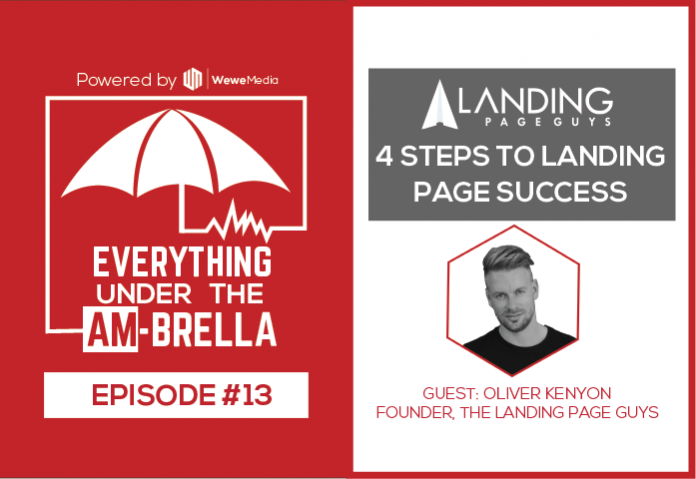 Listen, Subscribe and Rate us on iTunes, Spotify or TuneIn!
4 Steps to Landing Page Success with Oliver Kenyon
"Web design is an art, landing page is a science, and there's a science in what goes on behind your landing page" – Oliver Kenyon, Founder, Landing Page Guys
A pretty landing page isn't going to get you sales without the right strategy, and that's where Oliver Kenyon, founder of The Landing Page Guys comes in. Get yourself set up for landing page success in this episode as the man behind the largest affiliate marketing community – AffiliateFix.com and numerous online ventures in the affiliate space shares his exciting entrepreneurial journey and useful tips. Learn why his 4 step funnel will help your landing pages convert and how he drove cold traffic conversion rate from 1% to 8% for a very happy client.
Want to upgrade your landing page? Do it right here
You'll Find Out:  
Oliver's journey from qualified chef to online entrepreneur 

The creation of The Landing Page Guys 

Tips on juggling multiple projects & lessons learnt  

4 Step Funnel to set up your landing page success

Future plans for The Landing Page Guys 

Rapid Fire Questions: 10 things you probably didn't know about Oliver Kenyon
Guest: Oliver Kenyon, Founder, The Landing Page Guys
Host: Jon Semira
Thanks for joining us this week and feel free to leave your feedback in the comment section below! If you enjoyed this episode, please subscribe to us on iTunes, Spotify or TuneIn and leave your valuable ratings and reviews!
For more on Everything Under the AM-Brella and Wewe Media, follow @Wewemedia on Instagram & Facebook